2021 Oct 04
Fall Speaking Events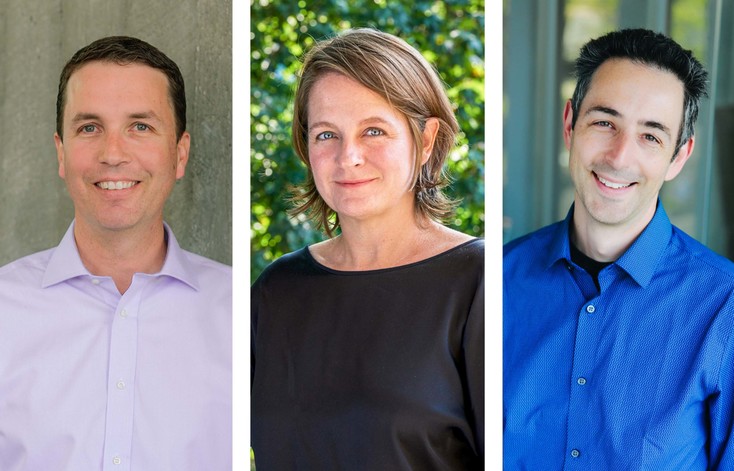 Principal John Kett, Principal Beka Sturges, and Principal Eric Kramer are slated to share their work and celebrate their profession in a number of speaking events throughout the remainder of the year.
CATHOLIC UNIVERSITY SCHOOL OF ARCHITECTURE WALTON LECTURE SERIES
On Monday, October 18, John will present "On Learning: Reconciliation, Continuity, and Change" to the Catholic University of America School of Architecture and Planning as one of four speakers in their annual Walton Lecture Series. John is currently working on the final phase of the Franklin Park Action Plan, a new landscape for the Speed Museum of Art, and the reconceptualization of what had been one of Louisiana's largest slave plantations, Live Oak.
2021 ASLA ANNUAL MEETING
Beka will explore the value of residential design as a learning space at the ASLA annual meeting on Friday, November 19 at 1:30pm with a lecture entitled "Domestic Landscape as Laboratory for Practice." Her fellow lecturers are Rob Gray ASLA, LEED AP from Hoerr Schaudt Landscape Architects and Mike Albert PLA, AICP, LEED AP of Design Workshop, Inc. Beka's current residential work includes private projects in Mount Desert Island, the White Mountains, and the East End of Long Island.
UNIVERSITY OF RHODE ISLAND
Eric will join Beka on December 2 at the University of Rhode Island's Department of Landscape Architecture to present "Designing Histories" to the University of Rhode Island. The lecture will close out URI's 29th annual landscape architecture series. Eric's work at the Alamo and Beka's work at the Connecticut Historical Society will guide the talk.
NEW YORK BOTANICAL GARDEN
Finally, Beka is scheduled to present "The Art of the Possible: Cornelia Hahn Oberlander's Landscapes," a lecture honoring the work of the late Canadian landscape architect, at the New York Botanical Garden on Tuesday, December 14 at 1:00 pm. Featured projects will include the Museum of Anthropology, Robson Square, and VanDusen Botanical Gardens Visitor Centre — all in Oberlander's hometown of Vancouver — along with other works of exceptional influence: Northwest Territories Legislative Assembly Building in Yellowknife, and the New York Times Building Atrium in Manhattan.