2016 Mar 15
LAM Features Long Dock Park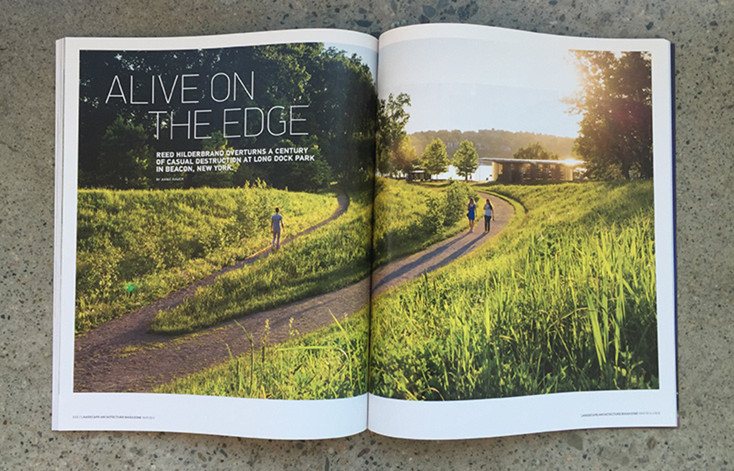 "Alive on the Edge" by Anne Raver is a of the feature in the March Issue of Landscape Architecture Magazine. The article tells the story of Long Dock Park in Beacon, NY, a postindustrial site in ruins along the Hudson River, remediated, revitalized, and turned into a vibrant urban park for the community by Reed Hilderbrand. The project received the American Society of Landscape Architects' highest design honor last year, the 2015 Award of Excellence.
The feature is the deepest coverage to-date of the project's history, construction, and personal significance of the commission for Reed Hilderbrand, after more than a decade of work in Beacon.
From Alive on the Edge," by Anne Raver in March 2015 issue of Landscape Architecture Magazine:
"Long Dock holds special meaning for Hilderbrand, a founding partner of Reed Hilderbrand who grew up in Wappingers Falls, the next town upriver.
"I first knew it as a kid because we used to go across to Newburgh on the ferry, before the bridge was built in 1963," said Hilderbrand, 58.
As the wind died down, two fishermen showed up to cast their lines over Beacon Point, the site-specific installation by the artist George Trakas that registers the rise and fall of the tides.
"My family used to hike up there on Sunday afternoons," Hilderbrand said, gazing at the smoky blue silhouettes of Mount Beacon and Breakneck Ridge to the east. "My father worked at the Nabisco company. He drove a forklift." The family, including the five children, lived in a worker's cottage on Franny Reese's estate. "I used to run around in an Ellen Shipman garden," he said."