2017 Mar 08
City Hall Plaza Breaks Ground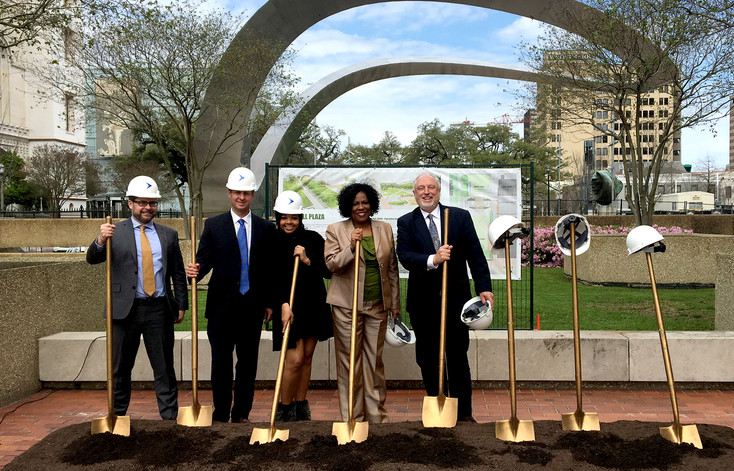 Reed Hilderbrand is pleased to announce commencement of construction of our next public space project in Baton Rouge LA, the renewal of City Hall Plaza.

The project represents a momentous next step toward realizing the Baton Rouge Central Green—the continuous and accessible expanse of park proposed in Plan Baton Rouge 2 to connect governmental, civic and cultural institutions downtown. More specifically, the landscape links two other public spaces, Galvez Stage and Repentence Park, creating continuous accessible circulation throughout downtown's core. Located on the crest of land with views over the levee, City Hall Plaza is effectively Baton Rouge's wide front porch.

Associate Principal in charge of the project, Joseph James, delivered the following remarks at the March 8 event:
Thank you Mayor (Sharon Weston) Broome, City Council Members, Davis, and the City of Baton Rouge. On behalf of Reed Hilderbrand and the entire design team, I am thrilled to be here today to join in our ground breaking of the City Hall Plaza Greenspace.
Within the year, this concrete and brick plaza will become a new civic porch for City Hall with a great front lawn. The parking garage opening will receive a new covering that at times will become a dance floor, allowing the Crest to be used as intended, with a stage fronting both the North and the South side. The covering will create an accessible connection from the 3rd Street Bridge to the St Philip Street Promenade as well as up to the upper elevations of the Plaza. The design will link the green lawn of Galvez to the new front lawn for City Hall; and from the City Hall porch to the steps and Promenade at the top of Repentance Park.
This transformation is the next step in fulfilling the Central Green, the vision of common cultural amenity to be enjoyed by all who work, live, play or visit the downtown Baton Rouge. Over a decade since its conception in Plan Baton Rouge 2, the Central Green knits together the great civic and cultural institutions of the City. This cohesive central parkland will strengthen connections within the downtown and renew the city's relationship to the Mississippi River, historic source of its economic strength and cultural identity.
Amongst the Central Green projects there has been consistency and conviction in the vision towards a vibrant public downtown. That conviction has been coupled with continuity and commitment in the Design and Construction teams, with results that benefits all. As we today break ground on the third piece of the Central Green, I can say that it is a tremendous honor for me and our team at Reed Hilderbrand to advance that vision toward reality. Momentum is building. We look forward to returning as a group to celebrate the Central Green's opening very soon! Thank you.