Scott Geiger
Associate Principal — Director of Marketing and Communications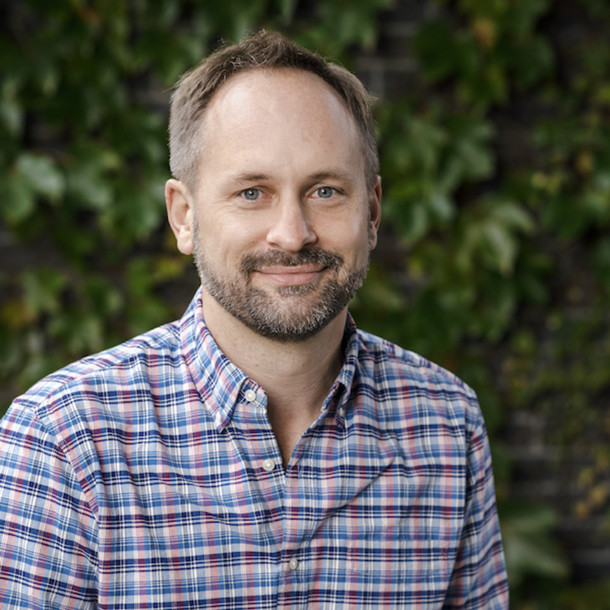 Scott believes people are interdependent and that our shared future depends upon a conscientious, designed relationship with nature. Landscape architecture brings all of us together in our vulnerabilities and dreams. Scott grew up in a working family in the west suburbs of Cleveland. Attending a Jesuit high school in the historic Ohio City neighborhood and working summers in a law firm on Public Square inspired Scott's fascination with the life and death of cities. A great English teacher led him to the novels of Faulkner and Melville his sophomore year and that led him to earn the Patricia Cornwell Prize to attend Davidson College. He later earned an MFA from The New School in New York City.
Scott was a member of Architecture Research Office (ARO) from 2006 to 2012, steering that practice to recognition from the American Academy of Arts and Letters in 2010 and the Smithsonian Cooper Hewitt National Design Award for Architecture in 2011. Scott's participation in ARO's materials for the 2010 Museum of Modern Art exhibition Rising Currents sparked recognition of landscape architecture's leadership in creating resilient cities. An admirer of Reed Hilderbrand's Long Dock Park and its many museums, Scott joined the practice as Marketing Director in 2013. Working with the firms' seven partners, he helps to cultivate and act upon new business opportunities as well as overseeing the expanding network of strategic partners and design collaborators. Scott directs Reed Hilderbrand's prolific marketing and communications team.
Scott's writing has appeared in The Believer, Conjunctions, ICON, Nautilus, and Landscape Architecture Magazine among other publications, and on exhibit at Storefront for Art and Architecture in New York. He has taught writing and communications at The Rhode Island School of Design and appeared as a lecturer and panelist at the AIA Center for Architecture in New York City, Amherst College English Department, ASLA Annual Conference on Landscape Architecture, and Columbia GSAPP Studio X. He has been a guest of the Corporation of Yaddo, an Artist Fellow of the New York Foundation for the Arts, and a recipient of the Pushcart Prize.